Mountaineers Friend of the year

A long-awaited cup of coffee, help with drying wet gear, a warming sauna, or a friendly, encouraging comment. Small things from strangers that are worth everything at that specific moment and can lift a whole day, or an entire mountain trip, to completely new heights. We know there are many mountain heroes and trail angels out there – and we want to pay tribute to them with an award of their own!

Anyone who has started or completed the White or Green Ribbon during the year can nominate the Mountaineers Friend who they think has meant the most to their experience along the mountain chain. Among the nominees, the jury for White & Green Ribbon selects a worthy winner.


MOUNTAINEERS FRIEND 2023
VALSJÖBUA, Valsjöbyn
MOTIVATION:
"For an unusually friendly and warm welcome treatment, when frozen, hungry White and Green Ribboneers pass Valsjöbyn on their way north or south. Valsjöbua welcomes with open arms, and offers good coffee and drying of gadgets, fixes and arranges, completely without personal gain. Tobbe and the staff at Valsjöbua are true mountaineers friends, heroes on the journey."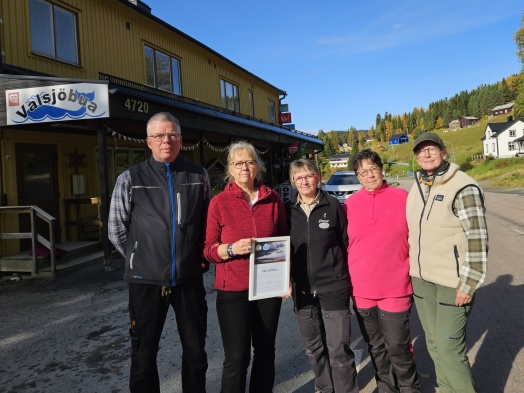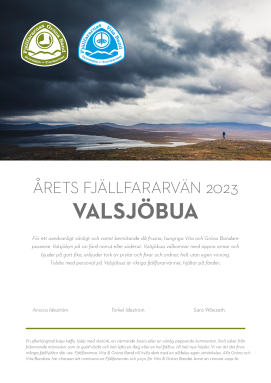 MOUNTAINEERS FRIEND 2019
LILI-MARIE WASSDAHL
Gäddede Camping
MOTIVATION:
"Lili-Marie has shown a fantastic hospitality and generosity to all mountaineers. She has made Gäddede a logical hub for anyone passing through the mountain chain under their White or Green Ribbon."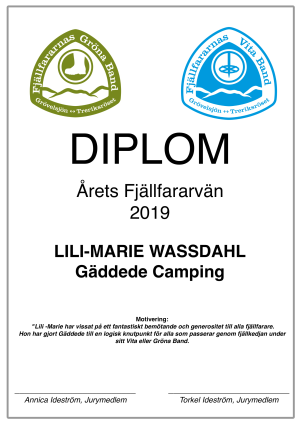 MOUNTAINEERS FRIEND 2018
YVONNE & TOMAS FRANSSON
Jänsmässholmens Mountain Hotel
MOTIVATION:
"Tomas and Yvonne have shown exceptional warmth and generosity to all mountaineers who have come their way. Their ability to make everyone feel like part of their family is amazing and much needed. It feels like coming home".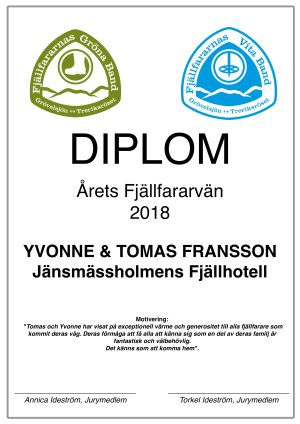 MOUNTAINEERS FRIEND 2017
STIG NILSSON, Olden
MOTIVATION:
"A real loyal servant, who selflessly served, helped, encouraged and kept an eye on many, many mountaineers over the years."

"I, like many other Green and White Ribboneers, can attest that Stig Nilsson in Olden has shown fantastic hospitality, which has been a very welcome feature of the tour. Stig keeps a close eye on all of us Ribboneers and invites those he manages to meet to coffee, sandwiches, and a nice chat in Olden's village cottage. Many have also been offered an overnight stay and given a much-needed opportunity to dry up and recharge their batteries after wet and cold marsh adventures."